BMC ID に発表された、人工関節周囲感染に関するDPTレトロ。
DPT 8.3mg/kg 高用量使用していました。
BMC IDは査読過程も確認できるので、好きな雑誌です。
bmcinfectdis.biomedcentral.com
Abstract
BACKGROUND:
Resistant staphylococcal organisms remain a serious problem in the treatment of periprosthetic joint infection (PJI). Higher failure rates have been reported when vancomycin was used. The purpose of this study was to assess the clinical dosage, effect, and safety of daptomycin in patients with resistant staphylococcal PJI.
METHODS:
We retrospectively enrolled patients with hip or knee PJI who were treated with daptomycin in our institution (n = 16) from January 2013 to December 2014 with a minimum follow-up of 2 years. The patients received daptomycin when glycopeptide could not be used due to multiple resistance, any adverse reaction, chronic kidney disease stage 3 or worse, and previous treatment failure with glycopeptide or empirical therapy.
RESULTS:
These patients received daptomycin at a median dose of 8.3 mg∕kg per day for a median duration of 14 days. The overall treatment success rate was 87.5% (14 of 16 cases) after a median follow-up period of 27 months. In the subgroups of acute and chronic PJI, the success rate was 80% and 91%, respectively. One patient developed asymptomatic transient serum aspartate transaminase (AST) elevation. No severe side effects such as myositis, acute renal failure due to rhabdomyolysis or eosinophilic pneumonia were found in our series.
CONCLUSION:
Relatively high daptomycin doses combined with adequate surgical intervention were effective in treating resistant staphylococcal PJI. Daptomycin is an option worthy of consideration in PJI patients for whom glycopeptide treatment is unsuitable. Further prospective randomized comparative study is needed in the future.
KEYWORDS:
Daptomycin; Prosthetic joint infection; Resistant; Staphylococcus aureus
P :  patients with hip or knee PJI 16 case
E : daptomycin
C : none
O : The overall treatment success rate was 87.5% (14 of 16 cases) after a median follow-up period of 27 months.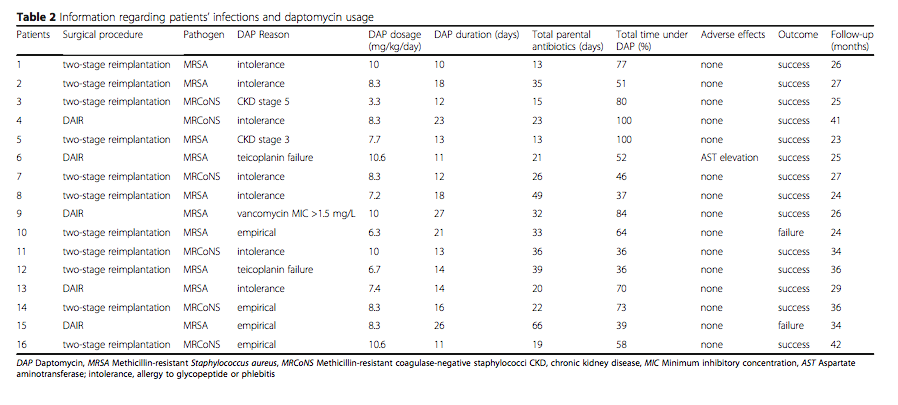 Open Peer Review reports
https://bmcinfectdis.biomedcentral.com/articles/10.1186/s12879-017-2842-6/open-peer-review
Reviewer comment
1. The title states 'Asian patients', but the patients come from a single institute within a single country/province? Please use the country/province name instead of 'Asian'.
Answer: The title is changed to "Daptomycin treatment in patients with resistant staphylococcal periprosthetic joint infection. A single institute experience in Taiwan".
For Method section
2. Are there standard national or international recommendations for prescribing daptomycin at the 3.3-10.6mg/kg per day level? Why did the 'infection disease specialists' make these suggestions?
Answer: Line 112-114: Based on the recent Infectious Diseases Society of America guidelines and clinical reports [16, 17, 20], daptomycin may be administered as an alternative option to manage resistant staphylococcal PJI at a dose ≥ 6 mg/kg per day.
3. How long did the patients receive oral antibiotics after discharge?
Answer: Line 118-119: The median period of oral antibiotic treatment after discharge was 35 days (range: 6-65 days).
4. Please define 'no prolonged suppressive oral antibiotic treatment'. How long is 'prolonged'?
Answer: Line 136-138: Prolonged suppressive oral antibiotic treatment was defined as oral antibiotic therapy prescribed for a duration longer than 6 months [23].
For Discussion section
5. Please add a sentence on the development of resistance to daptomycin and include this in the discussion.
Answer: Line 254-261: To date, the development of resistance to daptomycin of Staphylococcus aureus has been a concern. A number of factors are associated with loss of daptomycin susceptibility in Staphylococcus aureus. A recent review identified 62 clinical cases in 36 case reports in which daptomycin resistance was observed. In that review, 40 cases occurred after glycopeptide therapy and 15 after vancomycin and/or daptomycin therapy [34]. Another study demonstrated that under a daptomycin dose of <6 mg/kg per day, previous use of teicoplanin and a longer treatment duration were potential risk factors for decreased susceptibility to daptomycin [35]. The mechanism might be due to alterations of the bacterial cell membrane and cell wall [36].
6. Adverse effects associated with Daptomycin use include: low blood pressure, high blood pressure, swelling, insomnia, rash, diarrhea, abdominal pain, eosinophilia and eosinophilic pneumonia, dyspnea, fever, and hypersensitivity. Also, myopathy and rhabdomyolysis in patients simultaneously taking statins. Were any of these adverse effects NOT taken into account in the weekly reports. Were any patients receiving statins?
Answer: In the method section, page 7, line 140-143: Other adverse effects, including low blood pressure, high blood pressure, swelling, insomnia, rash, diarrhea, abdominal pain, eosinophilia and eosinophilic pneumonia, dyspnea, fever, hypersensitivity, myopathy and rhabdomyolysis, were also monitored.
In the discussion section, page 12, Line 242-244: In addition, concomitant use of daptomycin and statins carries concern regarding potential synergistic musculoskeletal toxicity [33]..
Line 248-249: ......with daptomycin administration at a dosage of 10.6 mg/kg per day, as the patient was not taking statins or any medication related to the side effect of myositis (Patient 6).
For Result section
7. There were apparently 2/16 treatment failures with daptomycin. In these cases, teicoplanin was used. Can you explain why daptomycin was used instead of teicoplanin in patients?
Answer: Line 170-172: In two of 4 patients (50%) who underwent empirical daptomycin treatment for suspected MDR Gram-positive cocci PJI after discussion with an infectious disease specialist, treatment failed eventually.
8. The manuscript needs proof-reading for English language mistakes, for example I do not understand lines 70 - 72.
Answer: The revised manuscript has been proofread by OxBiosci (www.oxbiosci.com). The Certificate of English Editing is attached to the file.
感想
内容は、微妙ですが、
BMC IDは査読過程も見れますので、とても勉強になります。
私だったら、VCM + リファンピシンから、VCM副作用出現あれば、DPT高用量で考えています。緊急度によりますが、DPT 8mg/kg 以上も想定ですね。
作者:

岡秀昭

出版社/メーカー:

メディカルサイエンスインターナショナル

発売日:

2017/04/07

メディア:

単行本