2014年 JAMA Intern Med に発表された、スウェーデン6施設で行われた 中症度CAPに対するβラクタム単剤治療とβラクタム+マクロライド併用治療の7日における臨床的安定性を確認した、非劣勢オープンラベルRCT。
PECO
P : moderately severe community-acquired pneumonia
E : Patients were treated with a β-lactam and a macrolide (combination arm) 
C : Patients were treated with a β-lactam alone (monotherapyarm). 
O : After 7 days of treatment, 120 of 291 patients (41.2%) in the monotherapy arm vs 97 of 289 (33.6%) in the combination arm had not reached clinical stability (7.6% difference, P = .07).
Clinical stability (heart rate <100/min, systolic blood pressure >90 mm Hg, temperature <38.0°C, respiratory rate <24/min, and oxygen saturation >90% on room air) 
T : Open-label, multicenter, noninferiority, randomized trial
Fig and Tab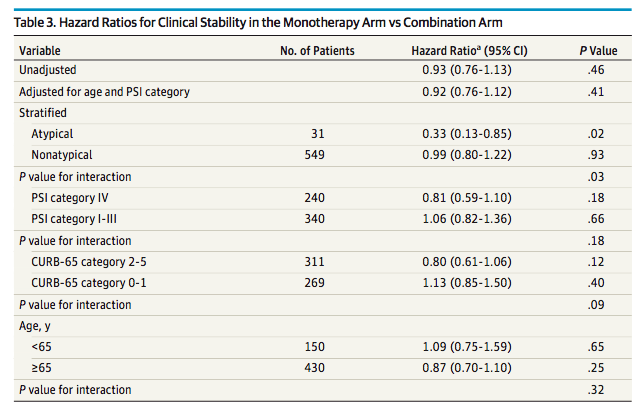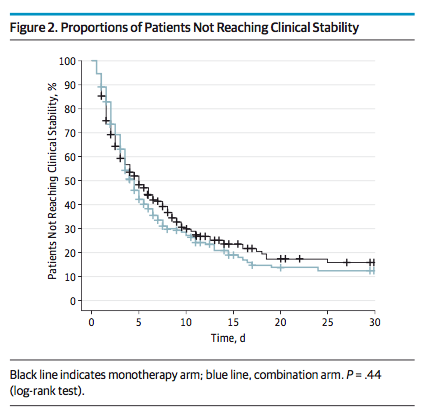 Conclusions
Our results have important clinical implications.
First, the results of this trial indicate that initial empirical treatment with β-lactam monotherapy delays clinical stability for patients infected with atypical pathogens, even when the presence of Legionella is systematically searched for with urinary antigen testing. Whether faster introduction of a macrolide in patients with a positive test result would have resulted in better outcomes is hypothetical.
Second, patients with higher severity of pneumonia (PSI category IV or CURB-65 score of ≥2) seem also to benefit from combination therapy.
Future work might test a strategy of tailoring the initial therapy on the severity of the pneumonia, with combination therapy reserved for patients with PSI category IV or higher pneumonia or a CURB-65 score of 2 or greater.
感想
併用群が有利な傾向にある結果。
ただし、重症でない、非定型を疑わない場合は、βラクタム単剤で良さそう。
結果の差にインパクトはあまり感じない。