Role of postgraduate year 2 pharmacy residents in providing weekend antimicrobial 
stewardship

coverage in an academic medical center.

 

 

 

 
Abstract
PURPOSE: 
The integration of pharmacy residents into an antimicrobial stewardship program (ASP) is described, and data on the residents' ASP interventions and outcomes are reported.
SUMMARY: 
ASP coverage of nighttime, holiday, and weekend shifts is often provided by infectious diseases (ID) medical fellows and staff pharmacists, potentially leading to inconsistent stewardship practices. As part of an initiative by a large urban hospital to provide around-the-clock, comprehensive ASP services 7 days a week, postgraduate year 2 (PGY2) pharmacy residents in ID or critical care were assigned to provide ASP coverage on weekends. Over a 12-month period, residents providing ASP weekend coverage documented a total of 1,443 interventions, of which 1,000 (69%) were pursuant to 72-hour prospective audit and feedback review and 443 (31%) occurred during ASP phone coverage. A comparison of overall antimicrobial utilization (mean ± S.D. days of therapy [DOT] per 1,000 patient-days [PD]) before and after implementation of resident ASP coverage on weekends showed a decrease in aggregate antimicrobial use from 799.3 ± 46.8 to 740.7 ± 17.3 DOT/1,000 PD (a difference of 58.6 DOT/1,000 PD, p = 0.08), with a corresponding decline in the incidence of hospital-onset Clostridium difficile infection (from 1.18 cases to 0.9 case per 1,000 PD).
CONCLUSION: 
By expanding the hospital's ASP services by assigning PGY2 pharmacy residents to weekend coverage, the institution was able to provide high-level clinical care 7 days per week, which benefited both patients and PGY2 pharmacy residents while meeting national ASP regulatory requirements.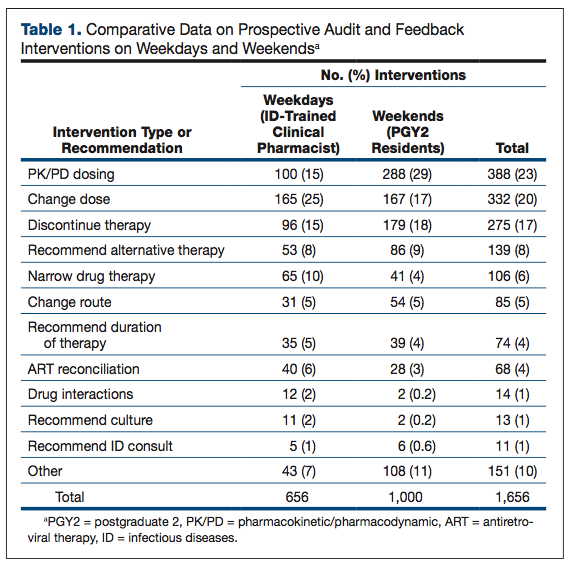 感想
Weekend ASP を薬剤師レジデントにお願いするという過酷な論文。 
評価項目に、電話数があることも面白いです。
ID-phによるWeekdayと比較しても、なかなかの仕事量。
必要性ありそうですが、多くの病院は休日は主治医が不在で、抗菌薬治療に対する相談が難しく、機能する病院は限られそうですね。
過去記事