An Automated, 
Pharmacist

-Driven Initiative Improves Quality of Care for Staphylococcus aureus Bacteremia.

 

 2017年4月 CID に報告された、薬剤師によるSAB治療の質改善に関する

The Ohio State University Wexner Medical Center (1367床) の研究。

 

 

 

 

P : hospitalized patients with SAB

I : pharmacists were alerted to patients with SAB via a patient scoring tool integrated into the electronic medical record. Pharmacists utilized the scoring tool and the institution's evidence-based practice guideline to make standardized recommendations to promote adherence to SAB quality-of-care measures and encourage ID consultation. 

C :  pre-intervention

O : 

all four quality-of-care components for the management of SAB were significantly more frequently adhered to in the intervention group (68.9% vs. 92.3%; P=0.008).

The incidence of ID consult improved significantly by almost 20% in the intervention group (75.6% vs. 94.9%, P=0.015).

No statistically significant differences in duration of bacteremia, length-of-stay, infection-related length-of-stay, or readmission were observed between the groups.

The incidence of all-cause mortality was 6-fold higher in the pre-intervention group compared to the intervention group (15.6% vs. 2.6%, P=0.063).

T : Retrospective, single-center quasi-experimental study
Pharmacist intervention
Prior to the implementation of the automated pharmacist-driven intervention, an evidence-based practice guideline for the diagnosis and management of SAB was available to clinicians. The guideline was developed by a multidisciplinary team consisting of physicians, pharmacists, and quality of care practitioners. The ASP evaluated patients with SAB and performed interventions as appropriate on a case-by-case basis. However, there was no formal, system-wide process to actively promote adherence to SAB quality-of-care measures or encourage ID consultation. On 15 December 2015, the Department of Pharmacy launched a coordinated go-live of the patient scoring tool for SAB and a one hour Continuing Education lecture session devoted to familiarizing the staff with the institution's evidence-based comprehensive care bundle for the management of SAB. The SAB bundle was developed following a literature review and included process measures aligned with the Infectious Diseases Society of America (IDSA) methicillin-resistant S. aureus (MRSA) quality-of-care performance measures. All clinical pharmacists throughout the hospital then received real-time notifications for every blood culture positive for S. aureus via the patient scoring tool described previously. Standardized recommendations based on the institution's SAB evidenced-based practice guideline (Figure 1) were communicated by the pharmacist to the treating physician both verbally and through a written progress note in the EMR.
Pharmacists were required to evaluate the patient scoring tool list at least once per shift to identify any patients with a score assigned. There are three eight hour shifts within the Pharmacy Department, with the third shift being an over-night shift. There are at least two clinical generalist pharmacists staffing during each shift. Clinical pharmacy specialists are only available during the first shift. These pharmacists evaluated all patients with SAB and provided verbal and written recommendations to the treating physician to promote compliance with quality-of-care components. For MSSA bacteremia, the most effective therapy was defined as continuous infusion cefazolin or nafcillin. For MRSA bacteremia, vancomycin was considered to be effective therapy unless the patient met the OSUWMC ASP criteria for vancomycin failure, at which time daptomycin was recommended. Vancomycin failure was defined as positive blood cultures for MRSA ≥ 5 days with therapeutic vancomycin troughs (15-20 μg/mL), all known sources removed, and/or vancomycin minimum inhibitory concentration ≥ 2 μg/mL. For patients with prior history of MRSA bacteremia treated with vancomycin within the previous 90 days, daptomycin was recommended up front. Pharmacists at OSUWMC have authority to enter a verbal medication order into the computerized order entry system with subsequent co-signature by a physician. Privileged pharmacists have an expanded scope of practice that allows them, once the prescriber has made a diagnosis and initiated treatment, to leverage their clinical expertise to order pertinent laboratory tests and use the results of those tests to adjust medication therapy. This privileging does not include ordering antimicrobial therapy or diagnostic tests, such as blood cultures or echocardiograms, and only applies once the diagnosis has been made and treatment has been initiated by the prescriber.
Data obtained included age, sex, hospital service, comorbidities including: diabetes, chronic kidney disease, receipt of immunosuppressive therapy (defined as cytotoxic agents, corticosteroids at a dosage of ≥ 15 mg of prednisone equivalence daily for > 1 week within 4 weeks, anti-rejection medications within 2 weeks, or absolute neutrophil count < 500 cells/mm3), lung disease, congestive heart failure, liver disease, or solid organ or bone marrow transplant, presence of implanted prosthesis, type of prosthesis, history of intravenous drug abuse, hospitalization in the previous 90 days, antibiotics in the previous 90 days, SAB in the previous 90 days, source of SAB, S. aureus methicillin susceptibility, hospital or community SAB acquisition, intensive care unit admission at time of blood culture collection.
The primary outcome was overall compliance along with adherence to individual quality- of-care components. The components evaluated were ID consult, repeat blood cultures, echocardiogram, and initiation of SAB-targeted antimicrobial treatment. These components were study-specific and did not directly reflect the performance measures in the IDSA guidelines for MRSA, although our institutional evidence-based practice guideline (Figure 1) encompassed all IDSA recommendations. Targeted therapy was defined as antimicrobial therapy initiated in response to the identification of S. aureus by the BC-GP assay. Time to targeted therapy was assessed as the difference between initiation of empiric therapy and initiation of targeted therapy. For all other components, the time was calculated from the date of the BC-GP assay result and the date of which the repeat blood culture, echocardiogram, or ID consult occurred. Secondary outcomes included time to pharmacist intervention, duration of bacteremia, length of hospital stay (LOS), infection-related LOS, 30-day readmission, and 30-day all-cause mortality. Time to pharmacist intervention was calculated as the difference between the time BC-GP signaled positive for S. aureus and pharmacist documentation in the EMR. Duration of
bacteremia was calculated as the difference between the first positive blood culture and the first negative blood culture. LOS was calculated as the difference between admission and discharge date. Infection-related LOS was calculated as the difference between initiation of antibiotic administration for SAB and antibiotic discontinuation or discharge date, whichever was sooner.
Fig and Tab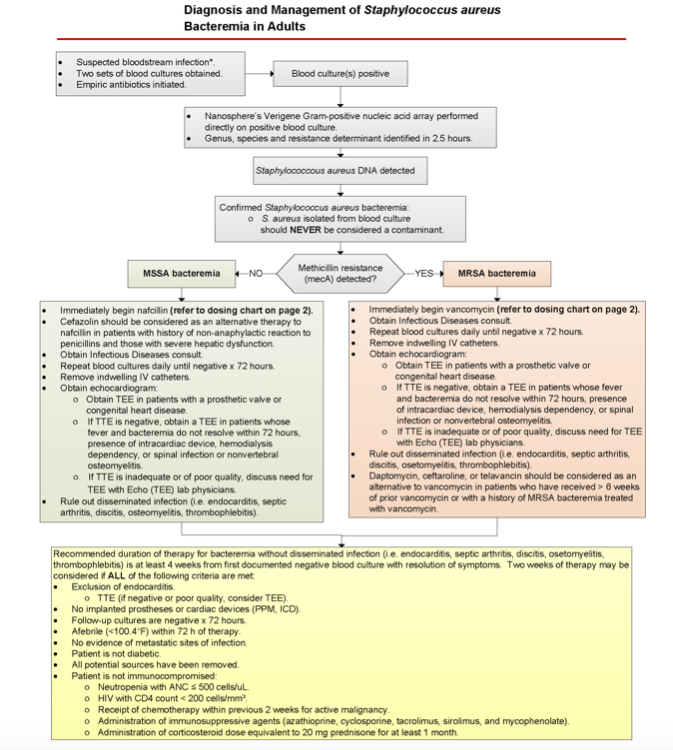 Limitations
Limitations to our study include those inherent to the retrospective study design, such as the inability to definitively assign causality for process measure compliance. Given the published data, we felt that encouraging an ID consult must be a fundamental part of our quality-of-care initiative for patients with SAB. Additionally, our study included a small sample size and was a single-center, non-randomized design. The Department of Pharmacy determined it was imperative to provide a timely and comprehensive analysis of the effect of pharmacist-driven interventions on patient outcomes for SAB. Pharmacists were only required to review the patient scoring tool once per shift, but a significant impact on overall adherence to performance measures was still observed. Pharmacists did not record the amount of time required to make recommendations and interventions. However, the relative infrequency of SAB (approximately one new patient per day) made the workload manageable. Finally, we observed large disparities in some clinical endpoints, such as mortality, although our sample size was too small to statistically elucidate this outcome.
感想
薬剤師の意義を示したことは我々の励みになるが、新規性は微妙。
SABでは限定的であり、さらなるインパクト論文を期待したい。CIDにアクセプトされる論文なのかと正直感じた。単一でレトロですし。
以前、私が論文提出した時は、単一でレトロは話にならないと言われたのに..(愚痴)
 ただし、とてもシンプルにまとめられており、素晴らしい。
前後比較試験は、交絡因子が無限であり、複雑な統計処理は数遊びであり、真実から離れていくと私は思っている。
過去記事